Overlander is a leading manufacturer of specialist vehicles with an unrelenting drive to design and build a new standard of Equestrian, Commercial and Leisure transport.

Building upon years of extensive development, testing and collaboration, our team have designed the all new R240 2-Stall Horsebox. The ethos of the R240 is truly centred around the horse and is underpinned by the highest quality standards.
Providing excellent performance and increased efficiency, the fully fitted R240 utilises a 2.0L BlueHDi diesel engine, with 6-speed manual transmission, offering 140 BHP. The 3.5 tonne R240 has been handcrafted with the safety of the horse at the forefront, using top quality materials throughout.
View the R240's features.
The R240 is equipped with an advanced composite aluminium reinforced ramp door which provides increased strength without compromising the weight. The gates and doors have been specially designed and manufactured in-house. For further detail and specifications, download the
R240 Brochure.
A - STALL SYSTEM
An advanced sliding rail system with all gaps minimised for safety.
B - BODYWORK
A hybrid panel system utilising high tensile panels for increased strength and longevity. Our tried and tested bulkhead system is market leading and is designed around the horse for safety and comfort.
C - RAMP
Using advanced composite aluminium materials, the Overlander Ramp and Spring Assist system allows for safe loading and unloading.
D - FLOOR
The Overlander triple tier flooring design gives complete peace of mind for safe travel.
E - EXTERIOR
All new exterior trim is designed for style with the front luton creating increased aerodynamics.
F - REVERSE CAMERA
Incorporated brake light and camera system allows for increased visibility and safety.
G - REAR ACCESS
Oversized door to allow for use in emergency scenarios, fitted with industrial hinges and positive hold back.
H - TOWBAR + STEP
Approved detachable swan neck towbar with access step and grab handle.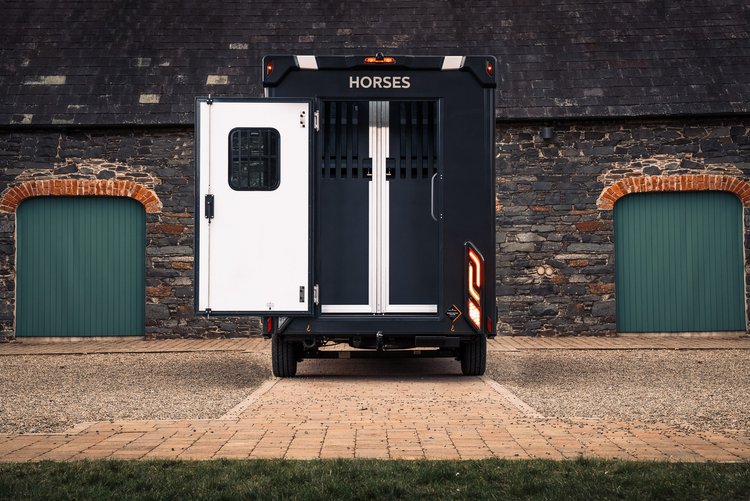 Upgrade to the R240+ horsebox with the following premium features
Towbar Kit
Black Leather Seats
Rear Step & Access Handle
Ramp Loading Strap

The R240 Sport is the ultimate luxury 2-stall horsebox
Towbar Kit
Rear Step & Access Handle
Ramp Loading Strap
Premium diamond stitched leather seats
Colour-coded bumpers
Alloy wheels
Entertainment system



The current Overlander prices are:


Standard model £57,999 plus VAT
Plus Pack £59,999 plus VAT
Sport £64,999 plus VAT
The R240 horsebox is available in six colours
Metallic Black / Gunmetal / Silver
Solid Navy / Clipper / Green
We also offer bespoke body and stall colour options to any RAL. Graphic options also available on request - get in touch to discuss how we can adapt the Overlander R240 to your specifications.